Welcome to the UK & Ireland Summer 2021 Finals!
One of our main principles is to ensure the safety and health of anyone involved, with this we have made the decision to make the finals a studio-only broadcast with teams playing from home in the best interest of our Players, Talent, Audience & Staff health.
We can't wait to see you all at the first UKIN event soon!
SEASON SO FAR
After a fantastic Spring Season, Summer has truly surpassed it as the closest season we have ever seen with so many surprises and close games! At the end of the group stage Na'Vi top the charts with newcomers Viperio 86 heading to finals as the 2nd placed team due to their amazing showing in their first UKIN Premier season.
Sadly, this meant that Team JLE & Tenstar are relegated down to the UKIN Second Division after the group stage.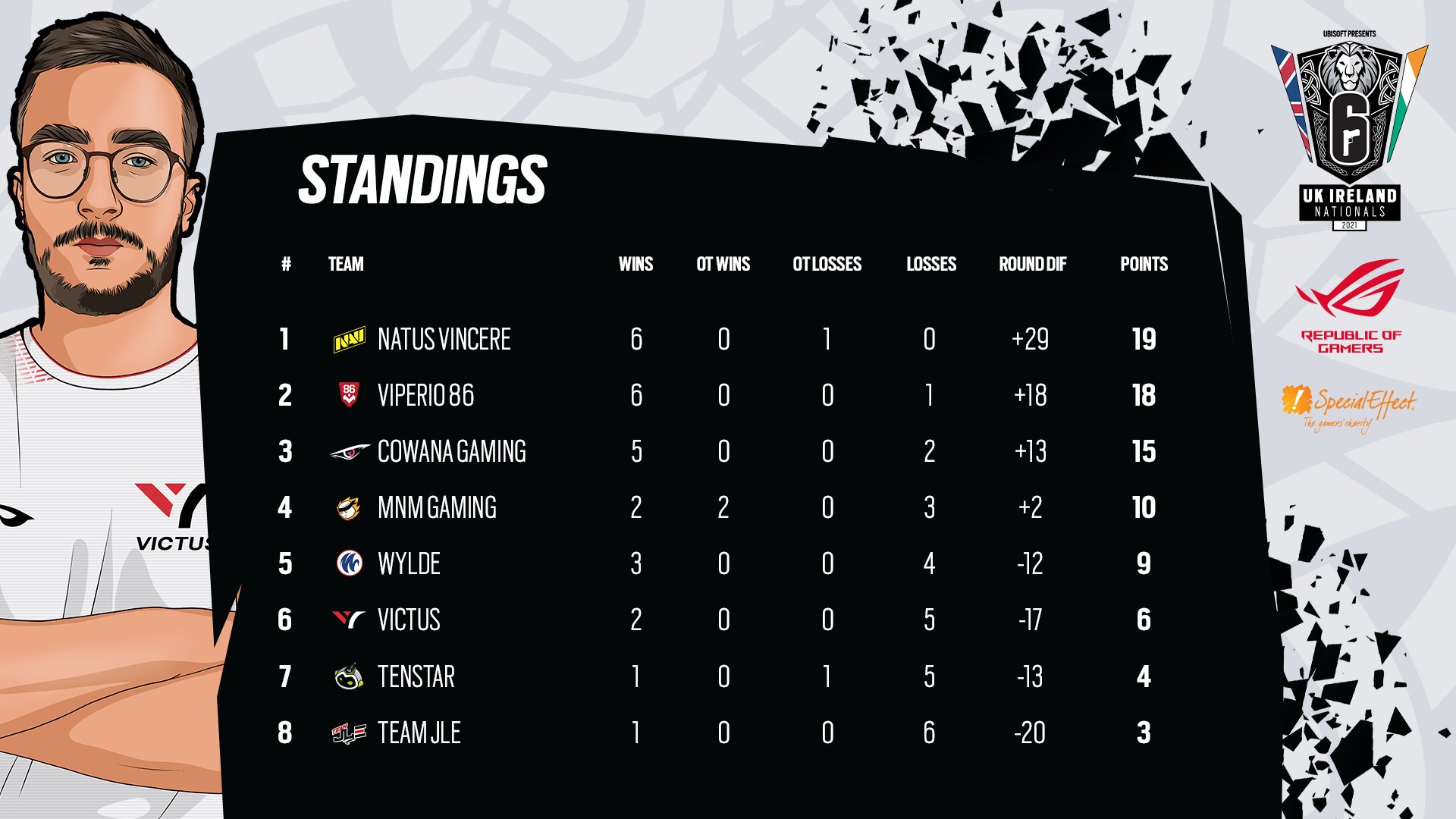 Playoffs change up everything as our teams faced off in a Best of 3 over the regular season Best of 1. MnM Gaming were victorious over Wylde while Victus fell to Cowana, setting up our exciting 4 team finals!
Join us on August 28th with games starting at 2pm as we kick off with a UKIN El Classico Navi vs MnM Gaming and then new boys Viperio 86 take the fight to Cowana gaming, both in a Best of 1 match.
The bracket will then play out in a Best of 3 across the rest of Saturday and then Sunday 29th August until our Best of 5 Finals. The team who enter from the Upper Bracket Finals will have a 1 map advantage going into the final.
TALENT
Join all the 'Fresh'-est faces from across the UK and Ireland as they 'Demo'-nstrate the best games from the analyst desk live from our new studio show live and socially distanced.
PRIZE POOL
The total prize pool for the UK & Ireland Nationals Summer 2021 Season is £25,000.
Distribution:
1st Place: £7500
2nd Place: £5500
3rd Place: £3500
4th Place: £2500
5th Place: £2000
6th Place: £2000
7th Place: £1250
8th Place: £750
WHERE TO WATCH
We are excited to be using the Global Rainbow Six Twitch channel for our Finals broadcast and we're kicking off at 1pm BST on Saturday 28th August and Sunday 29th August!
Join us on Twitch at Twitch.tv/Rainbow6!
You can also keep up with all updates from the event on our UK social media channel @Rainbow6_UK.
If you want to interact with us on social media over the weekend, please use the hashtag #R6UKI.